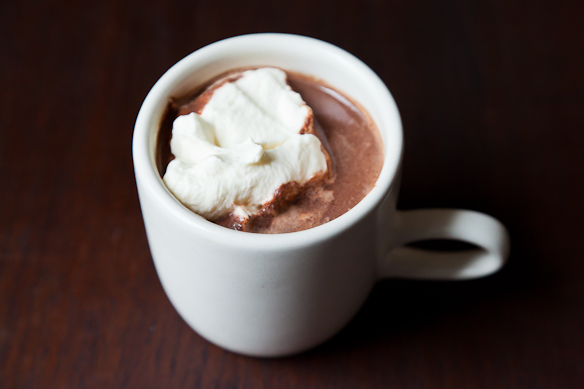 Perfect Hot Chocolate [Food52] (Photo by James Ransom)
Whether you're young or just young at heart, hot chocolate is the perfect wintertime drink. With just a few basic ingredients, you can serve up this chocolatey drink in no time, whether as a breakfast accompaniment, midday snack, aprés-work treat, or even late-night dessert. Easy to make and even easier to enjoy, hot chocolate is a great way to get the whole family involved in the kitchen. Adjust to individual tastes by playing with flavors and adding decorative toppings. For a more adult beverage, try adding a splash of your favorite liqueur. Though seemingly simple, this silky sippable can be crafted to suit any occasion or palate.
Get Your Sip On
Skip the mix! You can whip up a delicious mug of cocoa from scratch in a snap. You can even pre-mix a big batch of cocoa and sugar to have on hand for an even quicker cup. Your chocolate base can be made of cocoa powder, a chopped bar of chocolate, chocolate chips, or even a mix of powder and chocolate, as in this easy recipe for Perfect Hot Chocolate from Food52:
1. In a small saucepan, warm 1 oz. semisweet chocolate, 1 Tbsp. unsweetened cocoa powder, and 1/2 cup of milk over low heat until chocolate is melted.
2. Add a pinch of salt and another 1/2 cup of milk.
3. Continue stirring until all the ingredients are combined.
4. Stir in sugar to taste (about 2 Tbsp.) and enjoy!
Note: Keep a close eye and make sure not to boil the mixture too vigorously.
Alternative sweeteners to try: honey, maple syrup, agave nectar, or molasses

Switch up your liquid base: half and half, or a non-dairy milk like coconut, soy, hazelnut, almond, hemp or rice.
No Lumps, Please!
If you have trouble with the dry ingredients clumping (and want to avoid the vigorous stirring required to break up the clumps), combine cocoa and sweetener in a small bowl as you heat the liquid in a small saucepan on the stovetop. Once the liquid is warm, spoon 2 to 3 tablespoons of the warmed liquid over the dry ingredients, and stir to incorporate into a paste. Scoop the paste into the remaining liquid in the pan, stir or whisk to combine, and continue heating until warmed to your desired temperature. This also works especially well with liquid sweeteners, as the paste comes together quite easily.

Photo by Joseph De Leo; styled by Mariya Yufest
Fun with Flavorings
What doesn't go well with chocolate? You'd be hard-pressed to find a mismatch out there, so go wild with add-ins. Try mixing in some of these additional flavors to give your hot chocolate a bit more oomph.
Spiced
You can either use whole or powdered spices here, but our trick for a deeply spice-infused base involves the former. Warm milk or cream in a saucepan over low heat with your whole spice of choice (cinnamon sticks and cloves work well, but feel free to get nutty with whole cardamom pods, peppercorns, chai spices, or dried chiles). Just as the milk reaches a boil, remove the saucepan from the heat and cover, steeping the spices for an hour or two before skimming them out and discarding them. The resulting richness of flavor makes for a truly elevated mug of cocoa. Some spice mixtures to try include:
Fruity or Herbal
Raspberry or other fruit preserves (be sure to strain the mixture of seeds)
Fruit juice reduction - make your own from your favorite juice (grapefruit, pineapple, pomegranate, etc.)
Mint: add mint extract, mint-flavored dark chocolate, or infuse milk with fresh mint.
All Grown Up
Coffee or espresso, for an especially chocolatey mocha
Stout or porter beer with espresso and chocolate notes
Irish cream, coffee liqueur, brandy, rum, or amaretto
Enriched
Egg nog, for a seasonal treat
Chocolate-hazelnut spread (slowly thin with warm milk to prevent clumps)
Vanilla extract, to enhance the vanilla already found in chocolate
Warm caramel, for sweetness with added dimension
Brown butter, in case you needed a hit of additional nutty richness

Photo by Joseph De Leo; styled by Micah Morton
Toppers
Hot chocolate is a fairly blank canvas that can be easily transformed to suit any occasion or taste. Try serving it in a variety of decorative mugs or heat-resistant glasses, and garnish to your heart's content. The best part is that toppings needn't be just for decoration -- they add an initial kick of flavor to your beverage, and stay with you every sip of the way. Bring hot cocoa to life by dressing it up with fun and festive toppings:
Marshmallows: homemade marshmallows are easier to make than you may think, and so much more pillowy-soft and satisfying than the kind you'd toast over a campfire.
Freshly whipped cream: make sure to fold some extra flavor into your whipping cream, as well -- vanilla extract, maple syrup, or a dash of cinnamon can imbue the soft peaks with a bit of extra style.
Affogato-style: add a scoop of creamy vanilla ice cream to a shallow cup of rich dark chocolate.
Caramel: warm, gooey, and artfully drizzled over the top, you can never go wrong with this liquid confection.
Chopped nuts, candies, or cookies: sprinkle with finely chopped hazelnuts, chopped peppermint candies, or crumbled gingerbread cookies for a snack and drink in one.
Want more? Brush up on your chocolate basics with our handy guide, From Scratch: Chocolate 101. For simple instructions on chocolate-melting techniques, check out Kitchen Basics: Melting Chocolate. And discover some exciting international twists on drinking chocolate here.
Recipes
Spiced Hot Chocolate with Orange
Mexican Hot Cocoa
Homemade Hot Chocolate Mix
"Tingling" Truffle Hot Chocolate [Food52]
L'apres Ski [Food52]
Perfect Hot Chocolate [Food52]
How do you take your hot cocoa? Share your comments below!

Like this post? Check out last week's From Scratch topic: Pomegranate Primer.